CelebNMovies247 is giving Marshall on DVD to 5 lucky friends courtesy of Open Road Films.
Read on and make sure to ENTER and WIN your copy from our Marshall DVD Giveaway! Get your copy of one of the most impressive movies of 2017 starring Chadwick Boseman…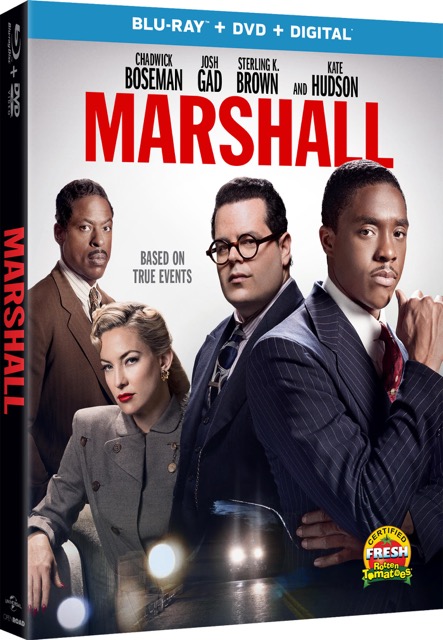 If you love Chadwick Boseman as The Black Panther, then you NEED to WIN a copy of Chadwick Boseman in the biopic film Marshall.
The film is about Thurgood Marshall, the civil rights lawyer who became the first African-American Supreme Court justice.
Marshall DVD Giveaway Details:
The clock is ticking, so make sure to Enter for your chance to win our Win Our Marshall DVD Giveaway For Christmas! Good Luck to all of our CNMV247 friends!
Plot Line:
Long before he sat on the United States Supreme Court or claimed victory in Brown v. Board of Education, Thurgood Marshall (Chadwick Boseman) was a young rabble-rousing attorney for the NAACP. The new motion picture, MARSHALL, is the true story of his greatest challenge in those early days – a fight he fought alongside attorney Sam Friedman (Josh Gad), a young lawyer with no experience in criminal law: the case of black chauffeur Joseph Spell (Sterling K. Brown), accused by his white employer, Eleanor Strubing (Kate Hudson), of sexual assault and attempted murder.
[rpi]
Watch:
"Marshall" is available on digitally on December 26th and on Blu-Ray on January 9th, 2018.
The winners will be chosen at random and notified via e-mail. CelebNMovies247.com will not be responsible for lost or missing postal mail. Good luck!!