Amazon releases the Seberg Trailer and Poster First Look
Based on the true story of Jean Seberg, born on this day in 1938, the Amazon original movie dives into her story. Read on to see new Amazon movie Seberg Trailer…
CelebNMovies247.com has your first look at the upcoming movie Seberg trailer and Poster.
In the new trailer for Amazon Studios' Seberg, beloved Hollywood actress Kristen Stewart stars as beloved Hollywood actress Jean Seberg as she faces down the FBI in a COINTELPRO investigation.
Synopsis:
Seberg is inspired by true events about the French New Wave darling and Breathless star, Jean Seberg (Kristen Stewart), who in the late 1960s was targeted by the FBI because of her support of the civil rights movement and romantic involvement with Hakim Jamal (Anthony Mackie), among others. In Benedict Andrews' noir-ish thriller, Seberg's life and career are destroyed by Hoover's overreaching surveillance and harassment in an effort to suppress and discredit Seberg's activism.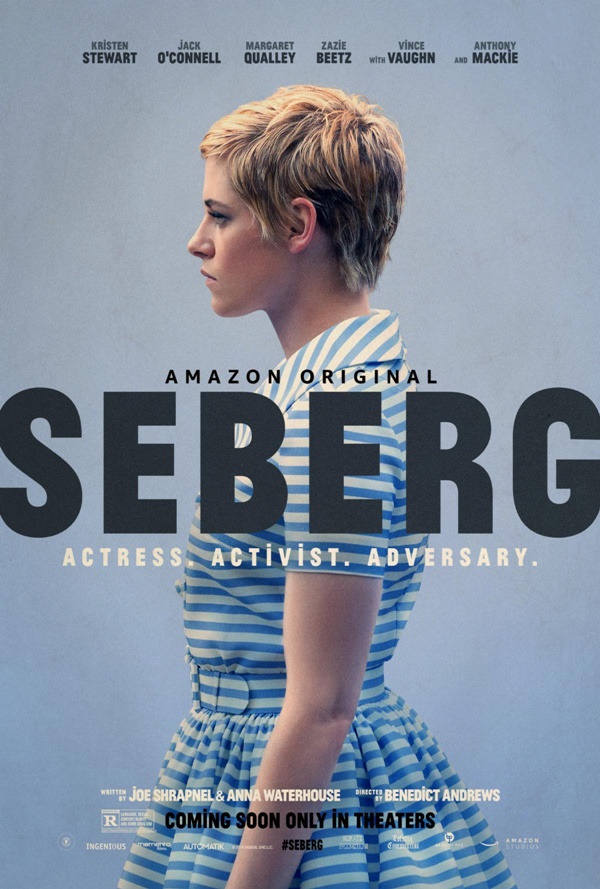 Directed by: Benedict Andrews
Written by: Anna Waterhouse and Joe Shrapnel
Starring: Kristen Stewart, Jack O'Connell, Margaret Qualley, Zazie Beetz with Vince Vaughn and Anthony Mackie
Get More from Amazon Studios Official site:
Kristen Stewart can be seen in the upcoming Amazon movie Seberg in select theaters on December 13th, 2019.