REVIEW: 'Maneater' Has Lots of Blood and Body Parts In The Water!
Continue on to read our review of the latest shark attack movie, 'Maneater' written and directed by Justin Lee…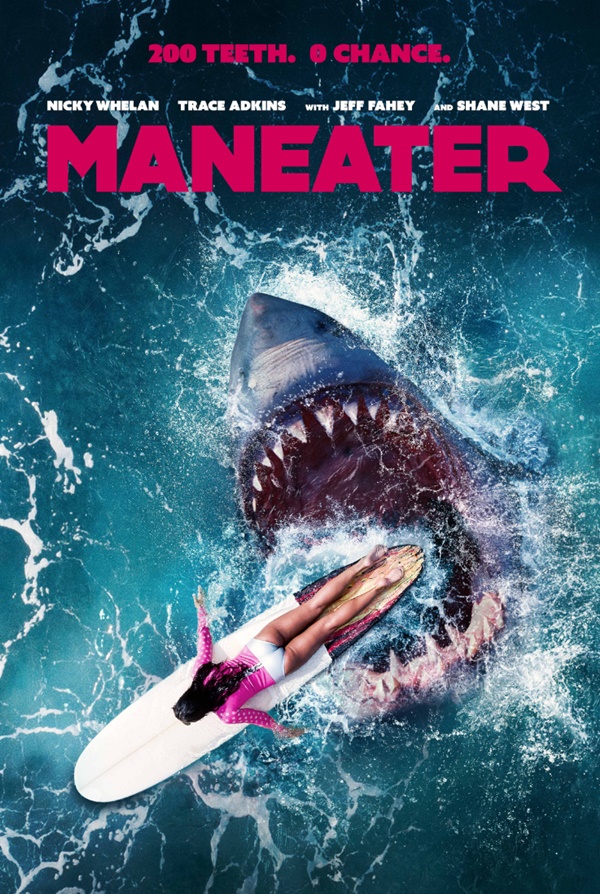 CelebnMovies247.com just watched Maneater and all we can say is "OMG, thank you…its finally over."
Well, its Shark month again, and there are a lot of movies about sharks streaming, but the new movie Maneater is filled with tons of shark attacks. In this film the body count is high, there is a lot of blood in the water and a bunch of young dumb people jumping in the ocean because it's a vacation paradise. Great White sharks are NOT the type of sharks you find in the warm Bahama waters, but in Maneater, there is a Great White with a taste for humans.
According to the film this Great White shark is killing just for sport and leaving a trail of body parts in the waters and on the beaches.
What Can You Expect From Maneater?
The script is fair, the acting is fair, but the shark attacks are good. It's like the director spent most of the budget on the attack scenes in the film. Writer/Director Justin Lee (The Most Dangerous Game) shows that he knows how to move a film along, but the script is so basic. The film stars Nicky Whelan (Hall Pass), Trace Adkins (The Lincoln Lawyer) with Jeff Fahey ("Lost") and Shane West (A Walk to Remember). Yeah, they all look good in the movie, but when it comes to their acting chops being put to the test, they all lack emotion and the skills to make you believe anything. Overall the acting is poor, but like we said, the shark attack scenes are good.
If you like Shark Attack movies, then you should check it out and add this one right next to one of the worst Sharknado films in that franchise and you have Maneater.
The film lacked those comedic one liners that help low budget films to be better than they are. It also lacked a decent cast to achieve the goal of making this a decent film overall. The disappointment of this film is epic. But like we said if you like Shark attack movies then check it out. If you like great shark attack movies, then skip this one. Its filled with cliché moments, predictable storylines, and a lot of bad acting except for one actress, Porscha Coleman who plays Sunny, she needed to be surrounded by more talent like herself, or an all-black cast filled with one-liners. Now that would have made a great shark movie, this film was none of that.
Maneater and The Talent:
Having Nicky Whelan as the main woman was like watching paint dry, she was unconvincing that she was any type of caregiver. Not only that, but she was lack luster in scenes that needed a true heroin. Thankfully, there were supporting actors like Ed Morrone, who was entertaining, but you could see them struggle since they worked their lines to a dead reacting supporting cast. Trace Adkins, the hero Harlan, played his character on one note. Overall, the film was one dimensional, but like we said, if you love shark attack scenes and lots of blood then this is a movie to watch.