Valley Girl 2020 Review: A Fun Upbeat Musical Tribute To The Original!
37 years after the original Valley Girl hit the big screen about girls living in the San Fernando Valley arrived comes a remake of the 80s classic.
Though, Valley Girl 2020 takes on a life of its own as the film is turned into a musical version of the cult classic. Continue on…
First and foremost CelebnMovies247.com's Emilio Ricci could actually see this version of Valley Girl on Broadway. It's a fun look back at the 80s but the film tends to miss the essence of true valley girl talk, "life fur shur Stacey."
We first told you about this remake I was reluctant that it would do the original justice. However, making this film a musical tribute to the 80s was the right way to go. It was supposed to hit theaters in 2018, but film delays pushed it back and it dropped during the COVID pandemic in May. Many films that were pushed backdropped over the past six months and you might have not known about them. Namely this one, which you need to see.
When it comes to a totally tubular remake of Valley Girl, the writers and costume designers should have watched the original a little closer to really grasp the verbiage you know.
It's like gag me with a spoon or something because it felt like I would have to grow old sitting on a couch or something before the writers really grabbed the true feel of the 80s talk.
SoCal teens back then, since I was one of them, spent there days in the mall. The mall was life, everyone was there, and that is where we hung. You got to find out about parties and talked about everything happening with your circle of friends while buying clothes.
Cellphones were not a part of life, so SoCal teens actually interacted with each other. There was no online shopping or texting a friend. It was radical and Awesome. When you were out with your friends, that was the center of your world.
With that said, Valley Girl 2020 which stars (Jessica Rothe of Happy Death Day, La La Land) Julie Richman, and Randy (Josh Whitehouse of The Knight Before Christmas) is a tribute to the 80s.  What really makes this film work is the lead two actors Jessica and Josh.
The movie is turned into a musical with hit songs from the 80s from The Cure, The Go-Gos, Depeche Mode, Modern English, The Payolas, and more. The movie is fun upbeat and a great musical take on Valley Girl.
Our concern with the film is they don't talk "valley girl" enough when compared to te original who hits the lifestyle of San Fernando and Hollywood teens in the 80s on the mark.
Valley Girl 2020 tries to get it but falls short on the lifestyle and verbiage. And sorry to say, but "tool" was NOT used in the 80s it was "dork".  "Tool" started in the late 90s and early 2000. That why writers need to do their research. It is as bad as Rob Zombies Halloween remake o the 70s and one of the characters uses a cellphone. Hello, period piece!!!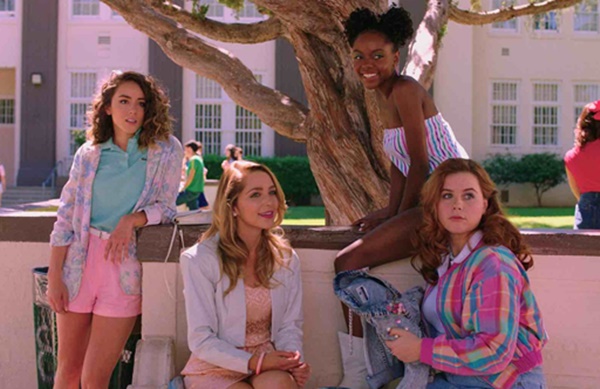 What is different in Valley Girl 2020?
Goldenberg and screenwriter Amy Talkington have upgraded Jessica's and Randy's ambitions. She makes doll-sized dresses in her spare time and dreams of going to the Fashion Institute of Technology in New York, rather than Northridge, as her parents (Judy Greer and Rob Huebel) expect. He belongs to a band the film describes as punk, but when given the opportunity, he sings an acoustic-sounding version of another Madonna number, the not-yet-released "Crazy for You." That was another problem with the film. It NEEDED to stay within its parameters of the 80s 1980 through 1983 the timeline of music for the film which originally was filled with songs from Sparks, The Plimsouls, Josie Cotton, Men at Work, Psychedelic Furs, Gary Myrick, Eddy Grant, Felony, Bonnie Hayes and more…
Director Martha Coolidge also wanted to cast an African American actor among Jessica's core quartet of Valley girls; Goldenberg does just that. Here, Jessica's friends — Karen (Chloe Bennet), Courtney (Peyton List) and Stacey (Jessie Ennis) — aren't nearly as judgmental as her parents, who were easygoing, pot-smoking ex-hippies in the original. And things are complicated slightly by the fact that Jessica and her boyfriend (Logan Paul, a controversial YouTube personality whose poor judgment played a big part in the film's two-year delay) haven't broken up.
What is Valley Girl 2020 Like?
While many critics are saying that Valley Girl 2020 is "a million miles away" from the cult classic that only just found its way to VOD for the first time earlier this summer.
We beg to differ. The film starts nowadays as Alicia Silverstone who plays Julie Richman telling her daughter about her first love back in the 80s. She makes a reference to Clueless in her opening statement and then goes into her storytelling, a musical version of Valley Girl because that is how she remembers it.
The film is able to stand on its own but compared to the original as we said it lacks in the true essence of the feel of the 80s.
Though the movie is an upbeat version that plays out like "high-school-musical" – The filming is done well as Valley Girl 2020 takes you back to a tripendicular soundtrack that is sung by the cast.
Basically, Valley Girl 2020 doesn't suck! It's fun for the family and if you like the original like we love, you will see that its a fun look back.
Plus there are great cameos from Deborah Foreman (The original Julie), Elizabeth Daly aka E.G. Daily (Loryn), and Heidi Holicker (Stacey).
Check out Valley Girl 2020 which is playing on EPIX this month.