WENDY Arrives On 4K UHD BluRay DVD + Digital April 17, 2020!
Make sure to add the beloved classic story of Peter Pan is wildly reimagined in this fascinating, ragtag epic directed by Benh Zeitlin. Continue on for more about WENDY on 4K UHD BluRay DVD + Digital from Fox Searchlight…
CelebNMovies247.com has the latest on the upcoming release of WENDY, the beloved classic story of Peter Pan.
WENDY:
Set on a mysterious island where aging and time have come unglued, this humanistic, naturalistic and mythological film follows an amazing story of children from vastly different worlds. When an adventurous young girl named Wendy (Devin France) follows her spirited nature, she lands on a seemingly magical island. Together with her happy, reckless, pleasure-seeking new friend Peter (Yashua Mack), she explores the island in all its wonder, and gets to know this spectacular land's other inhabitants. Soon, though, it's clear that Wendy is in a fight to save her family, her freedom, and the joyous spirit of youth from the deadly peril of growing up, with the most powerful ability she has – love. Filled with breathtaking beauty, danger and adventure, this thought-provoking film is one you'll never forget.
WENDY Digital Special Features:
Deleted Scenes Reel
Making Wendy
Audition Reel
VFX Breakdown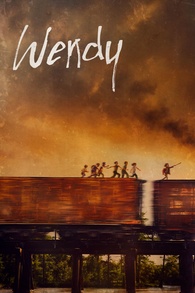 Product Specifications:
Product SKUs: Digital = 4K UHD, HD, SD
Feature Run Time: Approximately 108 minutes
Rating: PG-13 in U.S.
Aspect Ratio: 1.851:1
Audio: UHD Digital = English Dolby Atmos (some platforms), English 5.1 & 2.0 Dolby Digital, Latin Spanish 5.1 & 2.0 Dolby Digital, French 5.1 & 2.0 Dolby Digital, English 2.0 Descriptive Audio 2.0 (some platforms)
HD Digital = English 5.1 & 2.0 Dolby Digital, Latin Spanish 5.1 & 2.0 Dolby Digital, French 5.1 & 2.0 Dolby Digital, English Descriptive Audio 2.0 (some platforms)
Subtitles: Digital: English SDH, Spanish & French (some platforms)
Closed Captions:English (Digital)