Becky: A Teenager Wants Revenge On Neo-Nazi's!
Becky is that movie that hits the screen during a time when the social climate in America is fragile. Especially when it comes to a movie about escape cons/neo-Nazi's killing innocent people who they deem do not fit the look of America.
Yes, despite the prison break cons, they're white supremacists on a mission but Becky gets in the way. Continue for our Becky review…
Becky Review – Movie Rating: C
Reviewed by Trip Ricci
REVIEW:  "Becky" is as grim bloody, and gruesome as any horror movie, and it's good that Kevin James decided to play a bad guy. It is that perfect drive-in type of movie.
However, the film opens with promise, through candy-colored title cards and fast cuts between Becky (Lulu Wilson) and a cadre of criminals in the midst of a prison escape. It seems to lose steam until Becky goes on her revenge rampage. When the brotherhood collides with Becky, a bored high school girl who is heading out to their cabin with her dad (Joel McHale) all hell breaks loose.
Becky Set-Up:
The Brotherhood is on the way to retrieve a key. Meanwhile, good ole dad invites his new love interest (Amanda Brugel). Becky is angered since she is forced into a meet-your-new-family weekend at their out-of-the-way lake house. She is already righteously pissed off enough and not over the loss of her mom who died. Now, let's add some neo-Nazis into the mix for a blood bath of a good time.
Kevin James plays Dominick, the group's ringleader who sports a giant swastika tattoo on his bald head, so you know he's the bad guy. He pushes Becky to her limit. She snaps and goes on the war path of revenge.  One by one she takes the bad guys out in the most savage and gruesome ways. I mean who doesn't like some homemade weapons or a ruler in the throat.
What really would have put this movie into a trendy cult-classic is if they added some Billie Eilish music on the soundtrack, but that probably would have been the budget.
Eilish's "Bad Guy" song would have sold this movie real fast.
Just think of this song for the trailer and BAM, this movie would be a hit. Music sells movies.
And Billie's "all the good girls go to hell" would have set this movie perfectly:
Overall, Becky is a bit tongue-in-cheek with lots of violence and gruesome killings. This movie is good for what it is, I mean who doesn't like a teenage girl going wild and decides to start killing old white men? Sounds cool right?  Oh, did we mention that Becky's dad was engaged to a black woman? Yes, the movie really tries to go there with interracial couple thing, but fails to accomplish the goal. Basically that part could have been played by anyone, because the fiance role is pointless. Not to mention Becky using some of the cliché scenarios from previous horror flicks.
Basically, Becky is fun to watch. It has all the thrills and gore if you a blood fest type. It's a teenagers movie. A revenge thriller that hinges on an abused woman's rage. If this interests you, head out to see Becky or rent it On-Demand.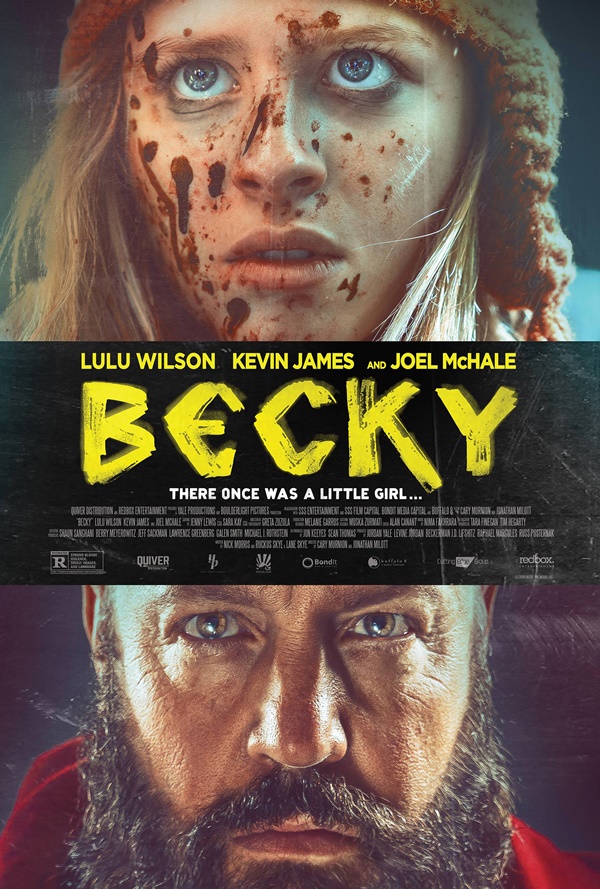 IOWA: Superior 71 Drive-In, Blue Grass Drive-In
INDIANA: Garrett Drive-In, Tri Way 4 Drive-In
KENTUCKY: Regency 8
MASSACHUSETTS: Mendon Twin Drive-In
MINNESOTA: Long Drive-In
NORTH CAROLINA: Hounds Drive-In, Raleigh Road Drive-In, Badin Road Drive-In, Eden Drive-In
NEW HAMPSHIRE: Milford Drive-In 2
NEW JERSEY: Delsea Drive-In
NEW YORK: Transit Drive-In, Silver Lakes Drive-In, Sunset 3 Drive-In, Vintage Drive-In, Delevan Twin Drive-In
OHIO: Mayfield Road Drive-In, Skyway Drive-In, South Drive-In Twin, Tiffin Drive-In, Starview Drive-In, Springmill Drive-In, Magic City Twin Drive-In, Van-Del Drive-In, Dixie Drive-In, Aut-O-Rama Twin Drive-In, Elm Road Triple Drive-In, Field of Dreams Drive-In
OKLAHOMA: Tower Drive-In
PENNSYLVANIA: Garden Drive-In, Circle Drive-In, Comet Twin Drive-In, Kane Family Drive-In, Riverside Drive-In, Silver Drive-In, Skyview Twin Drive-In
SOUTH CAROLINA: Hi-Way 21 Drive-In
TENNESSEE: Stardust Drive-In
WISCONSIN: Stardust Drive-In
What did you think of our Becky review?