First Look At 'Scream' 2022 Poster Cuts Deep!
The newly dropped poster for the upcoming Scream reboot reminds us of a scary truth… it's always someone you know.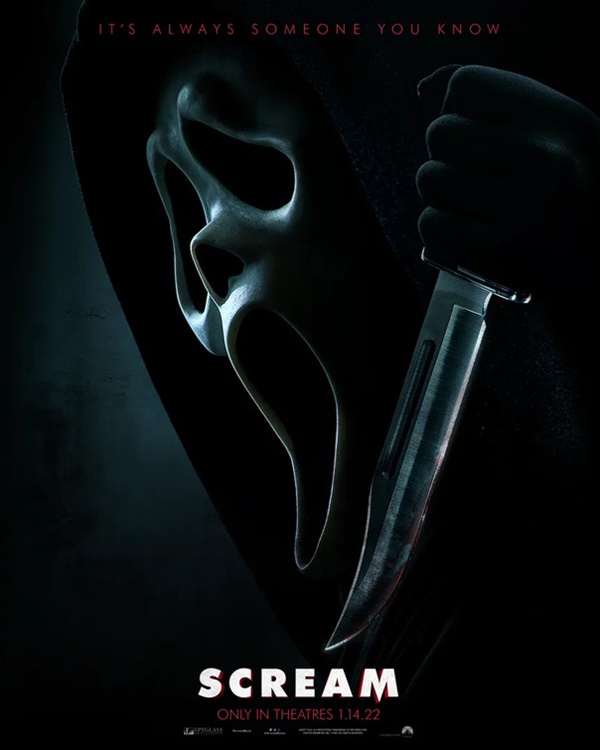 CelebnMovies247.com reports that the brand new Scream installment arrives on January 14, 2022.
With the upcoming reboot of the franchise, the simple Scream one-sheet effectively puts Ghostface front and center, where he belongs.
It seems like Paramount understands the value of Ghostface (which I still think should have been the new title). The familiar Scream logo sits tight and tidy at the bottom of the one-sheet, leaving lots of space to show off steely dan.
The poster design for Scream bears a resemblance to the first marketing materials used for Halloween 2018. Since that reboot was such a monumental commercial success, it's probably a smart move.
Scream features an exciting cast of faces new and familiar, not unlike the casting setup of the criminally underrated Scream 4. New cast members include rising stars Jack Quaid (TV's The Boys), Dylan Minette (TV's 13 Reasons Why), and Jenna Ortega (Netflix's upcoming Wednesday series). Legacy ensemble Neve Campbell, Courteney Cox, and David Arquette have also signed on.
Courteney Cox explained earlier this year that while Scream does follow the events of 2011's Scream 4, it isn't exactly a direct sequel to that movie.
Cox told The Drew Barrymore Show earlier this year:
This is Scream. These directors, I mean God, the directors [Matt Bettinelli-Olpin and Tyler Gillett] are just incredible.

It's a new franchise. It's hip, it's scary, it's just a new Scream. It's not a reboot, it's not a remake, it's just a brand new launch. I think it's gonna be fantastic.
Directors Matt Battinelli-Olpin and Tyler Gillett spoke to Entertainment Tonight about Scream 2022:
New franchise directors Matt Battinelli-Olpin and Tyler Gillett (Ready or Not) seemed to understand the sensitive situation they're in.
When asked how they've managed the Scream legacy characters, they had this to share:
Gillet said:
It was a wildly anxiety-producing situation. They were not disposable roles; they were very, very important and the heartbeat of what was great about the script. We couldn't imagine the movie without any of them and so not having that perfectly locked-in right off the bat was definitely scary.