John Wick: Chapter 4 Teaser Reveals New 2023 Release Date!
"John Wick" fans will have to wait a little longer to see the next installment
Lionsgate has surprised us with a new teaser for John Wick: Chapter 4, and with it comes the reveal that the sequel has gotten a major delay…
CelebnMovies247.com previously announced that John Wick 4 was set to be released alongside The Matrix Resurrections in May.
Now John Wick 4 was pushed back to May 2022.
A fun teaser released online by the studio brings about the news that the film has gotten yet another delay, putting fans on the wait for almost another year. It's now set to arrive on March 24, 2023.
It's a nice surprise to get a John Wick: Chapter 4 teaser, but it's nevertheless disappointing to see the release date get pushed back to such a degree. The ending of the third movie has left fans especially anticipating the fourth movie, which now comes nearly two full years after its previously released release date in May. The delay also follows Paramount's decision to move Top Gun: Maverick into John Wick 4's planned release date of Memorial Day weekend which likely played a role in the new move.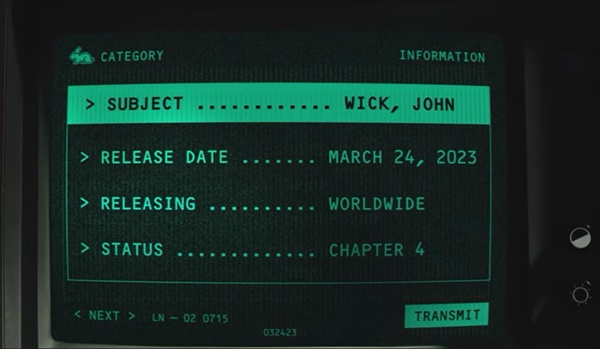 The fourth John Wick movie will still be facing some strong competition in its March 2023 release. That month will also see the debut of Wonka, a Charlie and the Chocolate Factory prequel starring Timothee Chalamet. Paramount's follow-up to A Quiet Place II will be released on March 31, putting John Wick: Chapter 4 right in between the two. The month also kicks off with the new Dungeons & Dragons reboot which stars Chris Pine, Michelle Rodriguez, Justice Smith, Rege-Jean Page, Hugh Grant, Sophia Lillis, and Chloe Coleman.
John Wick: Chapter 4 is directed by series mainstay Chad Stahelski and once again brings back Keanu Reeves as the titular vigilante. The movie also brings back Lance Reddick as Charon, Ian McShane as Winston, and Laurence Fishburne as the Bowery King. Newcomers to the cast include Donnie Yen, Scott Adkins, Hiroyuki Sanada, Bill Skarsgård, Shamier Anderson, and Clancy Brown.
I have to take this opportunity to (express) my utmost appreciation for Chad (Stahelski) and Keanu (Reeves)," Donnie Yen said of his experience filming the sequel. They're just lovely men, gentlemen, they've got a big heart. Keanu's got a good soul, a good man. Chad is also a very good man, very knowledgeable. People think of him as a brilliant action guy, he's not (just that), he understands films. He's a film librarian, he knows what's going on. I'm having the best time working with them in this movie, (more) than any of my previous Hollywood movies, so I wanted to express my appreciation.
Film Release Date:
John Wick: Chapter 4 is now scheduled to be released in theaters on March 24, 2023, courtesy of Lionsgate.
In the meantime, fans of Keanu Reeves can see him in the new movie The Matrix Resurrections, now playing in theaters and on HBO Max. Reeves has even recently said how he'd rather be Neo than John Wick if he had to make the choice, but he still feels like John Wick would totally understand.