Orlando Jones Fired From 'American Gods'; Company Responds!
Orlando Jones took to social media on Saturday, claiming he was fired from American Gods because his character, Mr. Nancy, sends "the wrong message for black America." Wait until you hear what he has to say…
#CelebnMusic247 #reports that #orlandoJones is answering all the questions why he was #FIRED from #AmericanGods https://t.co/IJH5ymRwrc

— Celeb N Music 247 (@CNM24_7) December 16, 2019
CelebNMovies247.com reports that Orlando Jones character Mr. Nancy, which is one of the best characters on American Gods has been FIRED.
Jones told fans in a video posted he says that he was fired from the Starz series on Sept. 10. to Twitter and Instagram:
There will be no more Mr. Nancy. Don't let these motherf**kers tell you they love Mr. Nancy — they don't.
Jones adds
I'm not going to name names but the new season 3 showrunner is Connecticut-born and Yale-educated, so he's very smart and he thinks that Mr. Nancy's angry, get sh*t done [attitude] is the wrong message for black America. This white man sits in that decision-making chair and I'm sure he has many black BFFs who are his advisers and made it clear to him that if they did not get rid of that angry god Mr. Nancy he'd start a Denmark Vesey uprising in this country. I mean, what else could it be?
Jones concluded his video by thanking the show's fans, author Neil Gaiman, who wrote the novel of the same name that the show is based on. Bryan Fuller and Michael Green developed the show for TV and served as showrunners on the first season. Jesse Alexander took over as showrunner in season 2, before the reins were handed to Charles Eglee for season 3.
Of course, Fremantle, who produces the show, has their reason why Orlando Jones character is no longer on the series to Deadline.
A spokesperson for the American Gods states:
The storylines of American Gods have continually shifted and evolved to reflect the complex mythology of the source material. Mr. Jones' option was not picked up because Mr. Nancy, among other characters, is not featured in the portion of the book we are focusing on within season 3.
The spokesperson added:
Several new characters, many of which have already been announced, will be introduced into Shadow Moon's world that will further contribute to the show's legacy as one of the most diverse series on television.
Jones later tweeted a portion of his video again, correcting his earlier misstatement about the date he was fired.
He makes reference to Gabrielle Union's recent firing from America's Got Talent, which is also produced by Fremantle.
Orlando restates:
Correction: I was fired Sept 10, 2019, like @itsgabrielleu @OfficialMelB @NickCannon @heidiklum all have said @FremantleUS is a nightmare. They treated you like a 2nd class citizen for doing your job to well. Stay tuned. More to come. #AngryGetsSh*tDone.
#OrlandoJones reveals he was #FIRED from #AmericanGods series. #CelebNMusic247 #CelebNMovies247 https://t.co/J2od7lBTwi

— Celeb N Music 247 (@CNM24_7) December 16, 2019
Orlando Jones Twitter and Instagram speak LOUD with a photo that says "SLAVERY":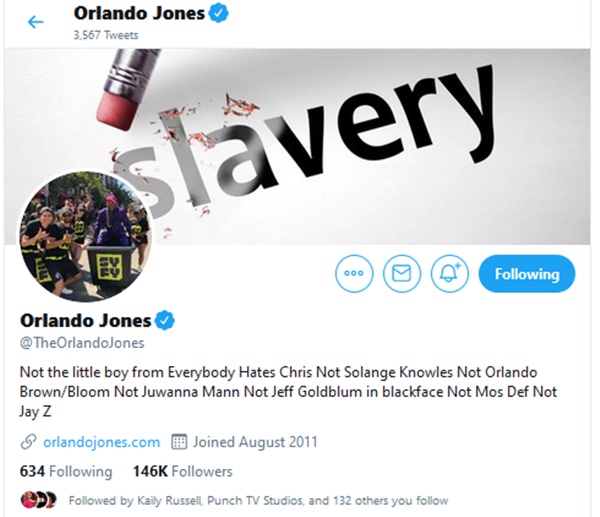 Orlando Jones gives more details this morning Monday (12/16):