Shark Bait Promises Bloody Bites In Deep Water!
Summer is here and yes, its not complete without a shark movie that will take out a HUGE bite in the box office and streaming with Shark Bait…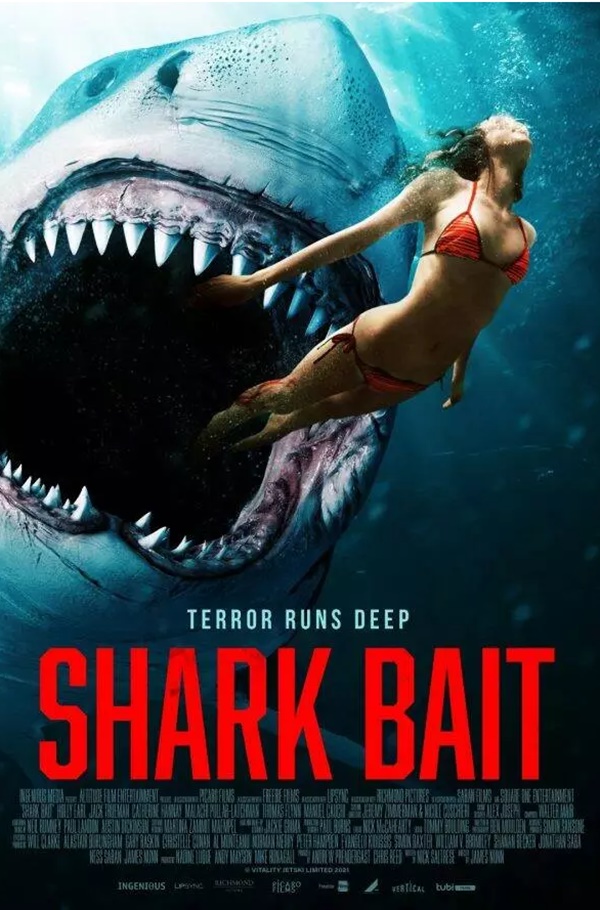 CelebnMovies247.com has your first look at Vertical Entertainments shark movie Shark Bait and it already looks intense as a bunch of young adults venture into foreign waters filled with great white sharks.
Ahead of its release later this month, a new trailer and poster have arrived online for the upcoming survival thriller Shark Bait.
Directed James Nunn, the film follows a group of spring breakers as they drift into shark-infested waters after stealing a couple of jet skis and find themselves stranded and at the mercy of the bloodthirsty predator lurking below.
A group of spring breakers are enjoying the trip of a lifetime on the sandy beaches of Mexico. As the sun rises after a night of partying, they steal a couple of jet skis and race out to sea. But bravado and bad decisions lead to a terrifying accident. Stranded miles from shore, the true horror begins when the group realizes they've drifted into shark-infested waters. With no way back and one friend badly bleeding, the group must quickly figure out how to survive the predator lurking in the waters below.
The great white movie stars Holly Earl, Jack Trueman, Catherine Hannay, Malachi Pullar-Latchman, and Thomas Flynn.
Shark Bait arrives in cinemas and On Demand on May 13th, 2022.